Well, we are aware of the Linux Distros and in fact, we have many of them available for free. But how many of us know that most Linux Distros come with pre-installed Apps that we can use them readily? Though it comes with such useful apps, we also need more of them as per your requirements. Let us now discuss the best Linux Apps of 2017 that you need to install on your system.
Synaptic
It provides a graphical front-end to browse different apps from the Debian-based Linux Distribution. Synaptic is very easy to use and it gets you Apps quickly through the command line utility as well. But most of us are used to the graphical fronts and it is worth that it is also available here! It is, for this reason, we regard it as one among the best Linux apps of 2017. You can also install "Games and Amusements" through the panel on the left side. The installation and uninstallation of Apps are made easier with Synaptic and you would come to know all these when you start using it. Read here to know the Best Linux Distros of 2017.
Here is the download link for Synaptic.  
VLC Media Player
The VLC media player is one of the widely used apps to play audio or video. It is regarded as one of the best Linux Apps of 2017 as it is capable of downloading codes for almost any audio or video file. Also, it is capable of playing DVDs too. With the arrival of social media in the Information Technology field, we are dragged to use video players by default. It is better to choose the VLC Media Player than going for a useless app. The next interesting part of it is that it converts files from one format to another with ease. For example, it can convert an AVI file to MP4. This feature is inevitable in any Media player as we cannot simply play with a single format always! Not only that you can also stream media with the help of Media Player Client.
You can get the VLC Media Player here.
GNU Image Manipulation Program (GIMP)
It is a free tool to edit images and add special effects to your images. It outputs a very professional image and therefore it is regarded as one of the best Linux apps of 2017. With GIMP, you can resize the image or retouch it with a handy toolbox and a set of drop-down list menu. Read here to know How to use GIMP to give your photos a professional edge.  It just occupies a space of lesser than 100 MB and hence it can save you some space as well. If you are used to the Adobe Photoshop, then it is slightly tougher for you to get adjusted to the GIMP. But it accepts Photoshop plugins and you can make it the way you want! We all know that a picture is worth a million words and hence everyone tries to convey their thoughts in the form of images. Even the social media is fully loaded with images rather than simple texts. Hence it is your time to make use of such a wonderful app!
Get the GIMP here.
LibreOffice
LibreOffice is an alternative to the Microsoft Office Suite for the Linux users. The user interface is extremely simple yet it is loaded with lots of useful features and that is why we regard it as one among the best Linux apps of 2017. The Word processor of LibreOffice is termed as "Writer", spreadsheet as "Calc", and Powerpoint as "Impress". These features are pre-installed in most Linux Distros and you can start deploying it as such. the LibreOffice Suite includes apps such as "Draw" to edit vector graphics, "Math" to compose mathematical formulae, and "Base" to manage databases. Another interesting part of it is that you can also open a Microsoft compatible file with the help of Open Document Format (ODF). Read the LibreOffice Review here.
Get the LibreOffice App here.
Mozilla Firefox
It is the default web browser present on a number of Linux distros and the notable ones are the Linux Mint and Ubuntu. This browser wonderfully presents the youtube videos and is capable of playing other formats as well. The fantastic user interface and the automatic update provisions make it one among the best Linux Apps of 2017. Not only that you can also change the browser theme and make it as colourful as possible. That's what today's youth needs in their email clients. It is not just about changing the appearance but you can do much more beyond! The presence add-ons are really worth getting the App.
Get the Mozilla Firefox here.
Pidgin
Pidgin is an Instant Message support and it includes chat apps like Google Talk, IRC, AIM, Bonjour, etc. As the Facebook has stopped its support to Open Messaging Protocol, XMPP, the Pidgin no longer includes Facebook. You can also make it enhanced with the help of third-party plugins and it forms one of the reasons that it is regarded as one among the best Linux Apps of 2017. With these plugins, you can even connect to Skype or other apps to protect the communications such as Off the Record (OTR).
You can avail the Pidgin App here.   
ClamAV or ClamTk
We all know that the Viruses designed for Windows or Mac machines cannot affect the Linux systems. But it is not harder to designed such viruses or malware to attack the Linux machines too! Most of the infections come as attachments in the email clients and we should be very cautious in dealing those. That is why we regard this Antivirus app, ClamAV or ClamTk as one of the best Linux apps of 2017. This app is generally used with email servers and you can even use it on files or folders to detect possible threats. The very unfortunate thing is that you can use ClamAV only from the Command Line and it is not appreciated by most users. But no worries as you have an alternative to this issue! You can go ahead with ClamTk or ClamTk-Nautilus to handle it with your mouse.
You can download the ClamAV here and the ClamTk here.  
Deluge
Though Deluge is a lightweight client, it is capable of downloading files as you do with a BitTorrent Client. The interesting feature of Deluge to make it one of the best Linux apps of 2017 is that it is very easier to handle. Also, it supports numerous plugins and one among them is a plugin to shut down the system as soon as the download is over. It is interesting and halves our job! Another feature is that you can handle the Deluge on your desktop from other remote devices. This makes it easier to handle apps wherever you are! Also, it helps you accomplish the tasks even when you are on a travel.
Get the Deluge here.
Audacity
Audacity is an audio editing program to record & edit your sounds. The interesting part of it is that it accepts audio inputs from various sources simultaneously and one of then is a Microphone. It is regarded as one among the best Linux Apps of 2017 as it allows multiple tracks such as background music support, lyrics supports, etc. You can also record noise-free soundtracks with the help of its audio effects features such as "Noise Reduction". Not only that it also includes user manuals for new users through its app as well online. If you start using audacity, soon you would recognize that it supports Virtual Studio Technology (VST) plugins as well. Once you finish recording your sound, you can export the output in various formats such as OGG, WAV, MP3, etc.
You can also read the Audacity Review here. Do get the Audacity app from here.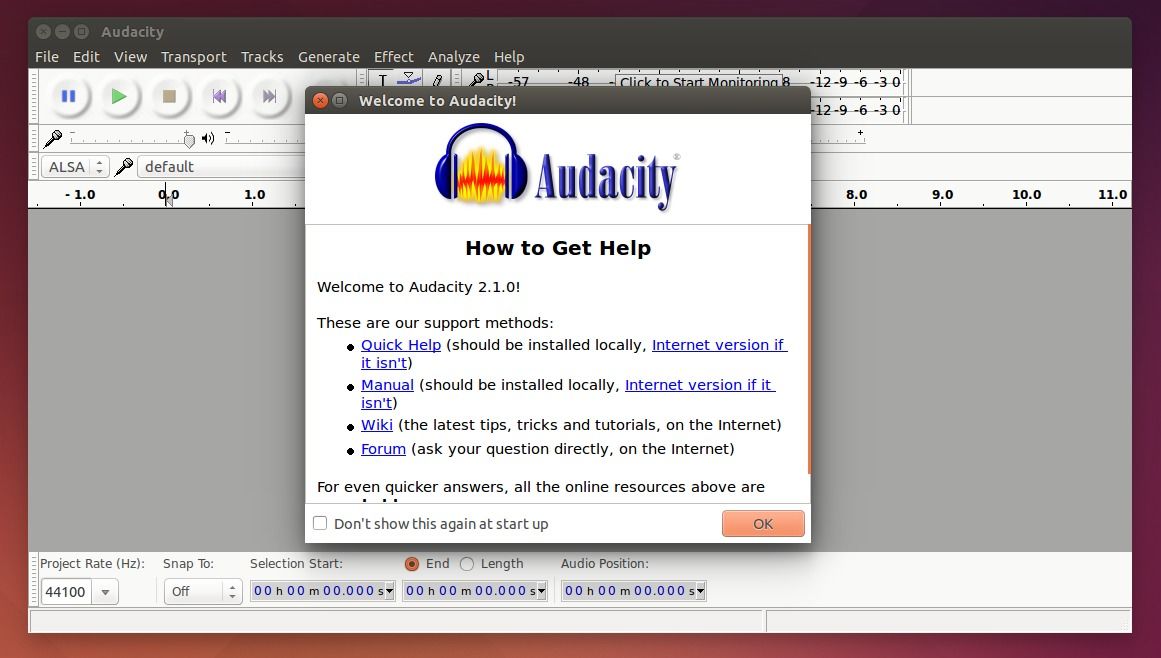 Mozilla Thunderbird
It is an efficient email client and most importantly a free one. We regard it as one of the best Linux Apps of 2017 as its wizard is lucrative in appearance and usability. You can either create a new email account or use the already existing ones with this email client. It has lots of colourful themes to make your mailbox as attractive as possible. Such features come as add-ons and the notable among them is the Calendar function. Alright, you can check those add-ons to identify its true potential.
You can get the Mozilla Thunderbird here.
Conclusion- Top 10 best Linux Apps of 2017
Linux is a superb operating system and you need not dare to use it! Like Windows, it is easier to handle and you would find numerous apps on Linux. But picking the right ones is quite a tricky task and we have made it simpler with the best Linux apps of 2017 guide. Just try those apps and you would appreciate its usefulness. Read here to know Linux vs. Windows: Which Operating System is Better?