Our Verdict:
Huawei Matebook X laptop is a pure class of art in terms of its design. Although this the first attempt of the Chinese mobile makers Huawei to build a portable computing device; it is surely no less than anything. This made me write the Huawei Matebook X Laptop review.
---
"The Matebook X is a superbly engineered laptop that puts Huawei's competitors on notice."
---
What We Like:
Lovely, durable design
Great-sounding, Dolby-endorsed speakers
Minimal display bezels and unusually low reflectivity
Comfortable, spacious keyboard
What We Don't:
Dysfunctional touchpad
Evanescent battery life
Can't take it anywhere without dongles
Highlights Of Huawei Matebook X Laptop Review:
This sleek and elegant Huawei Matebook X design is sure to lure you and spell its magic all around you. When my eyes were first laid on this masterpiece of design; it took no time to make me smitten, and I totally fell in love with the elegance of conception. This Windows 10 device did not waste any space around the 13-inch display screen and a large keyboard with full-width. It is hardly thick to insert the headphone jack and has no as such weight that makes it so light to carry. And if beauty is measured by efficiency then in my view this is the most beautiful laptop ever.
But beauty is not enough when it comes to choosing a laptop for a long term work. And other than its beauty the Chinese company Huawei has to show that it is equally capable of producing the mainstream salable laptops and it did in the smartphone market. Seemingly, the company balances the design's beauty, performance, and the price; which starts at $1,099 with an Intel Core i5 processor, 256GB of fast storage, 8GB of RAM, a high-resolution display, and Dolby Atmos sound. It's almost too good to be true.
The exterior of this sleek laptop is all wrapped with the sturdy aluminum with a demure matte finish that matches perfectly with the eye-catchy chamfers along the edges of the machine and around the keyboard, touchpad and power button. But In my skepticism, it is still there whether or not the extra touch of bling could woo the people. Also, the edges highlights are polished with mirror like finish.
Apart from its sleek and elegant body, the keyboard is the second favorite thing of many. Seemingly, the company does not compromise on the layout at all. It offers large, enough-spaced, orderly arranged plastic-capped keys spreading all over the full width of the device. It also doesn't shortchange me on key travel, which is positively luxurious compared to Apple's practically flat butterfly keyboards in the newest generations of MacBook and MacBook Pro. Where there is no bottoming out.
It is more like moving from the best to very bad when you switch from Huawei Matebook X keyboard to its trackpad. The less responsive and irritating Windows touchpad have seemed to be obsolete; and all thanks to Dell and Microsoft for bringing this change. But now that is once again invited by Huawei laptop lineups to be there. Although it is officially a Windows Precision touchpad, it barely behaves in the same manner. Navigating the cursor using this touchpad is not less than guiding a high person to be back home. You will have to do many swipes over the extra wide area given on the pad; to move the pointer a few pixels away. It is an utterly awful experience and can not imagine using the device without connecting an outsourced mouse.
Moreover, the Huawei Matebook X laptop review suggests that this very first attempt of Chinese smartphone company is somewhat scant on connectivity. There are only one USB port and one headphone jack on the left side of the laptop. And on the right side, a single USB-C port bores all alone. Though it was disappointing to see only 2 USB ports, I thought at least it would allow me to charge from either side. But guess what, I was wrong. It only lets you insert the charging cable and get the device charged only from the left side port. It's because the left side jack only welcomes the power. However, the both side charging facility has been introduced by Google Chromebook two years back. But it seems the latest laptops are still lacking in this facility.
The significant aspect in this Huawei Matebook X laptop review is, it does not clutter the computer with a heck of bloatware and hence did not slow down the system. Instead, it makes use of a Signature Edition of Windows 10 that eschews bloatware. And keep aside that jittery touchpad, you will experience the overall performance of the device to be fast and smooth. Just the way we wanted!
Who does not concern about battery life? Of course, it is one of the most important specs that we all worry the most. Because none of us wants always to connect the charger to the device; and this way it would kill the purpose of being portable too. And let me tell you it's battery life is a big disappointment to me.
This Huawei Matebook X laptop review holds something best for sound and audio. Yes! The speaker output when goes into my eardrum, I did not take much of the time to mark it as the best sounding laptop I have reviewed. The Dolby Atmos sound and Huawei complemented each other this way.
Specs Of Huawei Matebook X Laptop:
Below are the key specs of the very first Huawei Matebook X laptop.
CPU: Intel Core i5-7200U
Graphics: Intel HD Graphics 620
RAM: 8GB LPDDR3
Screen: 13-inches, 2160 x 1440, 200 pixels-per-inch
Storage: 256GB SSD
Ports: 2 x USB-C, 3.5mm headphone jack
Connectivity: Bluetooth 4..1
Camera: 1MP
Weight: 2.3 pounds
Size: 11.26 x 8.31 x 0.49 inches (W x D x H)
Price And Availability:
The Huawei Matebook X laptop got to be launched in Berlin on the tip of May 2017. But the actual launch and price details remain limited until now. Starting at €1,399 (about $1,570, £1,210, AU$2,090) with an Intel Core i5 CPU, 8GB of RAM and 256GB SSD, it's notably more affordable than the €1,699 ($1,499, £1,449, AU$2,199) MacBook Pro.This shows you need to pay extra to gain on the processor- i7 versions of the laptop though. Hence you will end up coughing up a lot more to get the Huawei Matebook X version you wanted.
---
"IT ALL BECOMES ACCEPTABLE IF WE GET GOOD OUT OF WHAT WE PAID"
---
Design:
When this super lightweight laptop gets hold of your grip, you will then be spellbound by the state of the art of design this beautiful Huawei Matebook X laptop has got for you. Only leanness and light weight do not describe its overall design. There is a lot more to add in this Huawei Matebook X laptop review to make acquainted with the ravishing design of this first attempt in laptop manufacturing by Huawei.
The most winning part is the device's portability to me. Even I have also purchased a case for it because it is this much light that sometimes it feels quite fragile. And it weighs only 1.05KG. There are keyboard backlights with tactile keys that the company intended to make typing experience way more comfortable. But one thing that did not lure me is its uneven backlight which could not evenly illuminate each key. However, there is only limited USB ports, two USB-C on each side and one headphone jack. This signals that while using this Huawei Matebook X laptop, you need to keep a dongle with you for added connectivity. Even worse, there is no Ethernet option in this device; but if you are going to use the Wifi only, it won't be a thing to panic on. But for some people, it could be!
Moreover, one more weird quirk is how you open the laptop, from which side. I still sometimes try to open it from the other side and end up looking like a jerk. It is because there is no clear distinction made on the side of which it has to open.
Color: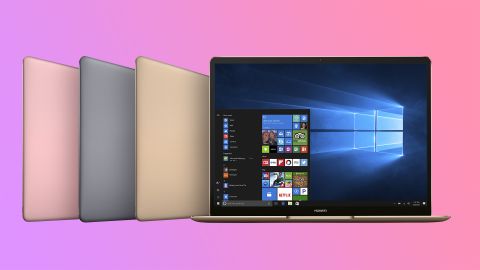 The color scheme ranges from black, gold and rose gold. Out of which I found the rose gold to fall for.
Display:
In all fairness, the display screen on the Huawei MateBook X is a marvel though. More from Huawei Matebook X laptop review, it is a 13-inch display in a 12-inch body, and Huawei has managed to achieve this by including a slightly different aspect ratio of 3:2. As Compared to most other laptops this classifies the screen feel unique.The bezels are slim, and it feels like no space is wasted, while the display itself is QHD and bright offering fantastic picture quality. If you're looking for a comfortable experience for watching the video, the display on the MateBook X will be perfect for you.
---
"GREAT TO LOOK AT  & GrEAT TO LISTEN FROM"
---
Features:
Not just the looks would flatten you but also the innards and the high-end features this newbie Huawei Matebook X laptop is incorporated with. It includes its so far best audio capabilities, pro webcam, free of bottoming out keyboard and a touchpad. It also spaced in the Huawei Matebook X laptop review that my team and I have brought to you.
The Chinese company Huawei knows how to make use of all the ample space for the keyboard. This could be evident from the large and plastic-capped keys that are all spanned across the full width of the laptop; making it easy to type. Interestingly, the key travel is one of the factors that do not stop to stun me. It is because it is somewhat close to Apple flat butterfly keyboard that comes with less or no bottoming out.
---
Blindfold us, and we'd never know the keyboard belongs to a laptop less than half an inch thick.
---
On the other hand, this Huawei Matebook X laptop review has more to tell you about the jittery touchpad Huawei has incorporated to blow your mind out of irritation. Yes, this is nothing less than the typical Windows trackpad with high unresponsive and misbehaving in nature. Moving it from one pixel to another will literally suck your mind, and you will end up wondering what to do with this beautiful slim book if it can't let the cursor move quickly.
Here's the kicker, the audio speakers are just the triumph for this extra sleek designed laptop. It has been developed in collaboration with Dolby. It does not input its software assistance but also finishes the core hardware of the speakers to maintain the class of the art. The output came as the grille just above the keyboard; along with the massive sound that mixes quite a good stereo separation and high-quality volume. Though the bass is a bit light, the clarity even at the maximum volume is commendable. In all fairness, there are no audio speakers better than this on a Windows ultra-thin laptop.
More from this Huawei Matebook X laptop, Both webcam and microphone are mediocre at best. The camera maintains relatively grainy video; in anything but ideal lighting. While the amplifier sounds a little deadened at a normal distance. Both are usable, but it's failing on a laptop this expensive.
Performance:
The company proves itself to be smart enough when integrating a solid state hard drive; connectable to PCI Express and this is what results in its strong performance. Given that, its performance is even comparable or better with few high-end flagship laptops of some famous brands in the market. Moreover, it has beaten the few in write and read speed. However, you may not notice this difference in your day-to-day work; but might observe it when downloading large files. Furthermore, the Huawei Matebook X laptop review assures you that it only takes ten seconds to boot. That's something really amazing!
Battery Life:
To my utter disappointment, the battery life of this newly launched Huawei Matebook X has failed to lure me and its fanatics. The lighter the laptop, the lesser the battery life is! If the company follows this notion, then let me say it out loud that the user would have zero desire to fall for the exterior and lightweight of the device if it could not give us the long battery life. It is squeezed to 41.4 watt-hour battery that barely lasts for five to six hours. But yet again, reducing battery capacity was somewhat essential to keep the device slim. This reminds me the proverb, beauty with no brain! Or I should twist it like "Beauty with reduced battery capacity and life."
Our Opinion:
It is a good deal for a day-to-day use with extravagant sleek design, high-end innards, strong performance, better features and ok battery life. And being the company's first take on, I consider it a trial and expect the design perfectionist Huawei to manufacture more state of the art pieces with longer battery life next time.
---
We prefer the Matebook X to the Mac overall.

---
Should I Buy It?
Well, I think the Huawei Matebook X laptop review has already answered this in a better way. But, to your satisfaction, certainly, it is a "yes" from us; because we find it a pretty much good deal to crunch; that will leave you with an elegant and light bodied laptop, strong performance, great specs, super cool audio speakers, comfy keyboard and mid-range battery.