Our Verdict:
Microsoft's vision of futuristic PCs running Windows 10 has landed to us in the shape of this Surface Pro 4. The best Windows laptop that the company ever built. But not to compare it with Android tablets. It's because the Android has more power and same support as Windows; except graphics, high-resolution games and programming. Moreover, where Android requires low memory and easy to start and use; Windows take more time and consume more memory. However, before a decade Microsoft was known as user-friendly but ever since Android introduced, it has taken over the market and brought a new resolution; which is more user-friendly and easier. But, if Surface Pro is compared to its predecessors, then undoubtedly it is the best creation of Microsoft. Furthermore, you will get acquainted with more details in this Surface Pro 4 review.
What We Love:
Incredibly larger and sharper screen within the similar dimensions as of its predecessors.
Immensely enhanced Type Cover.
Better Surface Pen.
Improved performance.
Brand new version of Windows 10.
The battery is now improved after the follow-up.
We Don't:
Pay extra for Type Cover.
Lacks key features for designers.
Entry level of Intel Core.
Save to say, Surface pro 4 is the best 2-in-1 pc, keeping few downsides aside!
Highlights Of Microsoft Surface Pro 4 Review:
This impeccable convertible will lure you with its design as it did in Surface Pro 3; as there is only slight subtle changes as compared to its predecessor.
This high-end Microsoft tablet will run the very fresh version of Microsoft hatched OS, Windows 10.
The innards of this system is usually robust, what else one can expect from Microsoft, the biggest tech giants!
There is bundled Surface pen packed in with this portable tablet Microsoft Surface Pro 4.
You may get your hands on the optional Type Cover. But, hey! Hold your horses, because you need to pay extra £110.
Initially, the battery life was not much improved, and it was almost the same as its younger sibling Surface Pro 3; but after the follow up by the company the battery life is upgraded to a robust level.
Nowadays everything has become handy. With this Surface Pro. A bright and fastest technology with more RAM, support and best graphic. It can be the choice of every next person whether he is a gamer, a programmer or a graphic designer. Microsoft is always into bringing something new to make life easier. And its Surface Pro 3 was surely a blockbuster. Even the company had gone extra miles to lure its partners that galvanized them make their very own successful 2-in-1s in the same token. So, expectations from its next iteration naturally touched the skies. But, this makes all the difference, when Microsoft did only some few revisions over this new Microsoft Surface Pro 4. But let's not complain because it still has some impeccable features that drive me to write Microsoft Surface Pro 4 review.
The enlarge and slimmer form factor display bears fruits for this Microsoft Surface Pro 4. And also the Type Cover has got few subtle changes. On the other hand, the touch screens of such tablet cum laptop are sensitive and can't be replaced easily in the market. Furthermore, It has no CD+ DVD support which sometimes gives you a headache.
New Offers:
No wonder, the all-new, Kaby Lake-powered Surface Pro has successfully replaced it, but the Surface Pro 4 still stands out. As a matter of fact, the Microsoft Store has recently started a sale to authenticate the continued relevance of the slate. And, such discounts are still open for you irrespective of any Prime Day.
Besides, the entry-level Microsoft Surface Pro 4 with an Intel Core m3 processor and 128GB of storage space for $649 (original price $799) is all you can grab for a limited period. In the same token, the Intel Core i5-powered Surface Pro 4 with a 128GB SSD is available for sale at only $849 with the discount of $150.
In addition, the company released a firmware update on July 11; that introduced support for the new Type Covers. This update is for both the Surface Pro Type Cover and the Surface Pro Signature Type Cover designed for the 2017 Surface Pro. You can get your hands on this update either by updating it on your own or getting it via Windows updates.
Design:
Notably, there doesn't seem much of the effort on the front design by the company. Simply stated in this Microsoft Surface Pro 4 review, this tablet has no noticeable change in its display as compared to its predecessor Surface Pro 3. At a glance, if you look at this Surface Pro 4 from some distance, it would seem quite identical to that of Pro 3. When I first looked at it, its similar metallic-grey magnesium finish, adjustable kickstand; and 292 x 201 x 8.4mm dimensions (which is slightly more svelte) reminded me 2014's Surface Pro 3; a direct predecessor of Surface Pro 4.
But, it is not that bad if the company wanted its iconic and good design to remain with at least two models. This doesn't impact me, or I will not count it as a negative point because of back 2014 when the Surface Pro 3 launched; it replaced the boring and outdated boxy black design of Surface Pro 1 and 2. And due to which, it has the edge over all other convertibles in the market. So for this time, it seems acceptable for the mains to go with this design. Yes! But for the next Surface Pro 5, we do expect some prominent changes in design.
More from its design, the Microsoft Surface Pro 4 review has more to tell you; I also found that it is appropriately satchel-friendly; which weighs a scant 786g. Whereas, generally the Intel Core M variants weigh even more than 766g. Moreover, it will also satisfy your connectivity needs because it has mini-DisplayPort, USB 3.0 and microSD connectivity options.
On the other hand, if you give a close look to its design, you will be convinced on the approach that the company has addressed some niggling issues regarding the design. The most preeminent one is the new docking mechanism of this Microsoft Surface Pro 4. Theoretically, this dock mechanism works pretty much like as it does in Surface Pro 3. But it never impressed me much as the magnetic lock is quite weak that makes the Pen tends to detach itself on meeting with even the slightest nudges.
Moreover, the position of the lock also annoys me because it's over the device's physical power and volume buttons. Contrastly, these petty issues have now been resolved by the company in this all new Microsoft Surface Pro 4. To that end, the power and volume keys have been moved on top of the tablet. And the magnetic lock has also been strengthened. In my experience, the Surface Pen never detached itself from the tab as it does in Surface Pro 3.
Display:
This high-end device Surface Pro 4 is loaded with 12.3-inch PixelSense display. Furthermore, the 2,736 x 1,824 resolution screen which is enough to make the general public go crazy. It is because its 267 pixel-per-inch density makes text and icons look sharp consistently. Also, for the naked vision, the brightness level and colour are just impeccable. This makes you see black deep and white so clean. And there is no as such backlight bleeds on this convertible. According to Microsoft this Surface Pro 4 covers 100% of the sRGB color spectrum. On the other hand, when I tested it to write Microsoft Surface Pro 4 review-display, my screen could cover 96.2% of the sRGB spectrum. That's still impressive! The screen moves in decent but a bit warm 6,946K colour temperature. It also features stellar 0.67 Delta E average; measuring the distance between the colours.
However, this is somewhat disenchanting for the designers because the screen is capable of covering only 68.3% of the Adobe RGB color space. Even though, the tech giant should understand that the Adobe RGB is widely in use of many creative professional designers. But for the everyday consumer, 68.3% is more than good.
Key Specs:
Here are some tested specs by our Microsoft Surface Pro 4 review.
8GB LPDDR3 RAM
2.4GHz Intel Core i5-6300U Processor (3MB cache, up to 3GHz with Turbo Boost and dual-core)
Intel HD Graphics 520
256GB SSD (PCIe 3.0) storage
12.3-inch, 2,736 x 1,824 PixelSense display (100% sRGB color, Contrast ratio: 1,300:1, 3:2 aspect ratio and 10-point multi-touch)
Mini DisplayPort, 1x USB 3.0, headphone/mic jack and microSD card reader (UHS-I).
Bluetooth 4.0 (Low Energy) and 802.11ac Wi-Fi (2 x 2 MIMO).
8MP rear-facing camera with auto-focus camera (1080p HD) and 5MP front-facing with 1080p HD.
Weighs 1.73 pounds.
11.5 x 7.93 x 0.36 inches (W x D x H) size.
Microsoft Windows 10 Pro (64-bit) OS.
The Pen:

More from this Surface Pro 4 review, the stylus that comes with tablets which Microsoft calls a Surface Pen is one of the subtle but important change in this convertible. Moreover, this Surface Pro 4 is bundled with the tablet. Similar to Surface Pro, the N-Trig based stylus opposes the Wacom stylus technology. Initially, this was also the part of my concerns like its battery life before the upgradations. It is because N-Trig strives for basic notation in OneNote; doodling and design become a painful process on Surface Pro 3 due to latency issues. However, it was later fixed and this time the company asserted that there is no such issue in Surface Pro 4. Moreover, the pen also has the feature of palm-detection. And the functional buttons have also decreased from three to one.This Microsoft Surface Pro 4 review has more to tell you about battery life, Type Cover, and other features.
The Type Cover: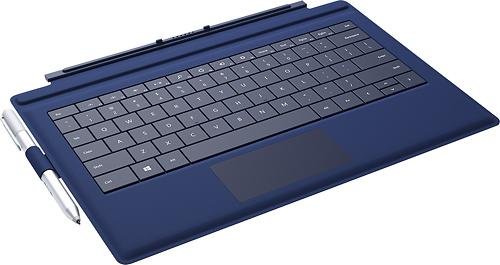 All thanks to Microsoft, the refinements made in Surface Pro Type Cover are invariably impressive. Undoubtedly, the Type Cover keyboard is one the biggest appeal for Microsoft fanatics. Comparatively, the previous one was quite a disappointing because it experienced awful travel, squished, nonreactive trackpads and unresponsive keys. But the Type Cover keyboard of Microsoft Surface Pro 4 is a next level version, resolving what lacked in many areas in its predecessor. The keys have become as separated as in any regular laptop. The backlit keys have also got better and give a clicky feel. And to your surprise, you need to pay extra $129, £109 or AU$199 for the keyboard accessory.
Repairability:
That's quite an obvious to have an urge of knowing whether this Microsoft Surface Pro 4 on which you will likely to spend wads of money; have the repairability quality or not. Never worry, this Surface Pro 4 review will guide you in that manner too. Bear it with me for a moment that this expensive device is not much repair-friendly; that earns a minimum of two out of ten from iFixit. The website first drew the attention towards the difficulties in removing the battery and display of this Microsoft convertible. It's due to the reason that the company held down both with powerful adhesive that has made it downright hazardous too. On the other hand, the website had also found that the SSD was quite easy to remove.
Battery Life:
This all makes the difference; it's important to talk about battery in this Surface Pro 4 review; as the battery is always an important part of electronics. Whereas some devices offer full-time backup and power off services, but most of the devices are not comforting today's need. When we think about tablet what we first have in our mind is. Using it anywhere; While travelling or in a restaurant. Or with friends.
Somehow not every place allows us to charge tablets, so a good backup battery is the priority of every electronic geek. As compared to other tablets and laptops; Microsoft surface pro 4 is giving a medium size battery backup. Mostly who stays more than 8 hours out or play games and not able to charge wouldn't prefer having it. But if you want to use it shorter for your business. It is one of the best options. Reducing brightness makes it more efficient and longer to stay alive.
Conclusion:
To wrap this Microsoft Surface Pro 4 review, all I want to add is; finally Microsoft has revealed a new surface pro which is perfect for a newbie. Starting, learning and using it has become easier for Microsoft lovers. We believe that Microsoft will keep improving its technology, services and last not least which is a need of this generation. More service centres, Cheapest parts, accessories and additional warranty so the user can play it safe and longer. Investing a handsome amount for surface pro is quite reasonable.